Your "Grill Sergeants":



Recognizing Bodies:



Interested in joining our
Grill Sergeants Team?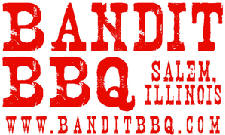 Bandit BBQ Crew - Grill Sergeant Profile
Team Website: www.BanditBBQ.com
Email: enlist@thebbqbootcamp.com
Facebook: www.facebook.com/banditbbq
The never stoppin', hard rockin', competition barbeque team of Bandit BBQ Crew has been competing in the U.S. since 2007. Hailing from scenic Southern Illinois, USA; Jim 'Rhino' Reincke, Crew Chief, started the team as a way to explore his passion for outdoor cooking.
In 2008 the crew grew to include a full-time teammate in Rod 'Hopper' Rodawald (also of Southern Illinois) and a bevy of 'Bandit BBQ Babes' to help with the entertainment and tedious side of competition life.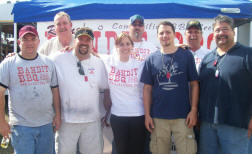 While 2007 was a great year of growing for Bandit BBQ Crew, their real victories began in 2008, and continued to roll through 2009, with awards coming in from both Nationally and Regionally Sanctioned contests. 22 of 23 meat categories entered in 2008 garnered Top 10 finishes for Rhino & Hopper (the only non-Top 10 finish came in 13th of a field of 40 professional teams); and their first GRAND CHAMPION & RESERVE GRAND CHAMPION titles coming in 2009. They attribute the victories to a couple basic factors…MojoRub.com Original Seasoning Blend and (most importantly) Having Fun!
In addition to Bandit BBQ Crew, Rhino is the founder of the Illinois BBQ Society and creator of The BBQ Boot Camp™.
60+ Top Ten Finishes in the last 24 contests!
"I attended a Rhino boot camp last summer in Illinois. You are in the middle of a real competition in real time. You see everything that is done and how it is done. Jim will answer any and all questions and allow some "hands on" as well. No secrets. In addition he is open, friendly, knowledgeable, experienced, a proven winner and entertaining. You will start the day before in preparation. You will sleep on site if you desire or leave and come back the morning of the competition, your choice. You will get value for your investment. If competition is your goal, this is not only an excellent venue, it is the only one of its kind that I know of. He will even feed you along the way but bring your own beer!" ~ Dennis M., Arizona (Rend Lake, IL Contest - 07/02/10)
---
"As one of the recruits in the Bandit BBQ Team, I wanted to thank Jim Rhino and all the other recruits for an educational and exciting experience. I have competed in BBQ events in the past and have never been called in a single category. The BBQ Bandit team was called in all four competition categories yesterday and we finished fourth overall. We were even called in the tailgate competition. When I reviewed what I had learned with my family last night, my 15 year old summarized it up pretty well. "It looks like we only knew about 80% of what we were doing in the past competitions." Now that we know how to be competitive, we can't wait for the next competition. Thanks again Jim." ~ Steve T. (Rock Springs, AZ Contest - 01/29/11)
---
"As newbies in the world of competition, Cheri and I learned so much Jim, for putting this boot camp on. If anyone is thinking of getting into this, find someone that is doing a boot camp, hope that person is half as good at the boot camp as Jim is, you will learn a lot. When we all started we were all a bit reserved but as time went on we all came together. Thank you to John, Dave, Double Dee, George, Jeremy, Charlie, and Tony, the other recruits. A big THANK YOU to Jerry, letting us use your smoker. If Jim plans on coming back to the Phoenix area for an event, I'll be there...Thanks, again to everyone" ~ Bob & Cheri S. (Rock Springs, AZ Contest - 01/29/11)
---
"Just want to say what a pleasure it was to meet all the people that came to Rhino's Boot Camp. We met as strangers and all left as friends. That is what BBQ is all about. Hope to see you down the road especially at a competition. If I'm ever competing and you see me. You better stop in and at least say Hi." Jerry H. (Rock Springs, AZ Contest - 01/29/11)
---
"Jim, as an outsider looking in, I have to say, you and your BBQ Boot Camp were a HUGE Success. I just wish I had more free time so I could have joined you. I really enjoyed seeing you run it, you had so much positive energy and really showed all your Boot Camp Crew what BBQ Comps are all about. HAVING FUN!!! I was excited to see all of you at the Midnight Appetizer Party. It's something we do here in Arizona and are very proud of. BBQ comps are all about having fun, making new friends and enjoying the art of BBQing. You certainly showed that (to) your Boot Camp crew and I can see that they are all hooked now. I truly look forward to seeing them all out at future events and hope that we see you back out here again soon. You have a standing invitation to any of our events. Great finally meeting you. Look forward to seeing you again soon." ~ Mike Reimann, AZBarbeque.com Contest Organizer / Founder of the BCS
---
"I had a great time. I'm still bragging to my friends and neighbors! They are so lucky to know a Bar-B-Q Champion like me. I have told them the Team we had was like the Navy Seals are to the ROTC. I know the competition was only yesterday but I couldn't wait to start grilling. I made chicken today for wifie and I. I figured six pieces would be enough, she ate four! so it looks like we have just permanently decided to cook chicken once a week. I also went by the local Bar-B-Q store (BBQ Island, Inc.) to look at smokers." ~ Tony E. (Rock Springs, AZ Contest - 01/29/11) (He ended up buying a smoker and breaking it in properly THAT night!)
---
"I want to take the time to thank you for everything this weekend. I know both Cheri and I learned so much more than we thought we would. I am very proud to have met you and help you with this competition and the wins. I know I said it before we left, but if you find yourself in this neck of the woods, please feel free to give us a call, and if you need help in another competition, keep us in mind. Again, this weekend was a blast and I know all of us learned a lot and had even more fun. Thanks again, we will stay in touch." ~ Bob & Cheri S. (Rock Springs, AZ Contest - 01/29/11)
2007

2009

2010

Des Plaines, Illinois

10th Place Sausage

Salem, Illinois (NS)

2nd in Sausage

6th in Chicken
7th in Ribs
4th PLACE OVERALL

St. Peter, Illinois
Grand Champion

1st Place Chicken

3rd Place Ribs

1st Place Pork

1st Place Brisket

1st PLACE OVERALL

Centralia, Illinois
Grand Champion

2nd Place Chicken
2nd Place Sausage

3rd Place Ribs

1st PLACE OVERALL

Mt. Vernon, Illinois
Reserve Grand Champion
1st Place Chicken

4th Place Ribs

2nd Place Pork

2nd Place Brisket

2nd PLACE OVERALL

Mt. Vernon Chili Cook-Off
Grand Champion
2nd Place People's Choice
2nd Place Blind Judging
1st PLACE OVERALL

Wamac, Illinois
6th Place Ribs
9th Place Pork
4th Place Brisket
6th PLACE OVERALL

Hazelwood, Missouri

6th Place Ribs

8th PLACE OVERALL

Moweaqua, Illinois
4th Place Ribs
5th Place Pork
10th Place Brisket
9th PLACE OVERALL

Murphysboro, Illinois
Got Whooped...it happens.

Centralia, Illinois
Grand Champion

1st Place Chicken
1st Place Sausage

2nd Place Ribs

1st PLACE OVERALL

Rend Lake, Illinois
6th Place Ribs
22nd PLACE OVERALL

Alton, Illinois

Grand Champion
2nd Place Chicken

3rd Place Ribs

2nd Place Pork

1st Place Brisket

1st PLACE OVERALL

Hazelwood, Missouri

2ND PLACE
PEOPLE'S CHOICE!

Sesser Chili Cook-Off
Grand Champion
1st Place People's Choice
2nd Place Blind Judging

Rock Springs, Arizona

7th Place Chicken

3rd Place Ribs

10th Place Pork

4th Place Brisket

4th PLACE OVERALL

Other Contests
To Be Determined...

Will YOU Be Part
of the Glory?

2008

Mt. Vernon, Illinois (NS)
Reserve Grand Champion

2nd Place Chicken

1st Place Ribs

3rd Place Pork
2nd Place Brisket

Nashville, Illinois

3rd Place Chicken

2nd Place Ribs

5th Place Pork

2nd Place Brisket
3rd PLACE OVERALL

St. Jacob, Illinois
3rd Place Chicken

4th Place Ribs

3rd Place Pork

8th Place Brisket
4th PLACE OVERALL

Mt. Vernon, Illinois
2nd Place Chicken

7th Place Ribs

13th Place Pork

8th Place Brisket

4th PLACEOVERALL

Alma, Illinois

4th Place Chicken

9th Place Ribs

6th Place Pork Sausage

5th PLACE OVERALL

Wamac, Illinois

3rd Place Chicken

4th Place Ribs

6th Place Pork

9th Place Brisket
7th PLACE OVERALL